Discover more from online-offline
A newsletter about technology & culture
Introducing $HOLLA: like Zuck Bucks, but better
004. Field Notes on social money, creators, and community
Hi, new and not-so-new subscribers. It's been a while. I debated how to begin this newsletter until I saw this Tweet by Nikhil. It sums things up well. Sorry for the long wait—it's been a tough month. I actually wrote over 2,000 words about fashion (technology, content, and commerce) a month ago after Hanifa's 3D fashion show, but ... George Floyd was killed a few days afterward. I put the essay on hold. It's been motivating to see people and corporations act to make the world more equitable for black people. Still, we have a long way to go.
Today, I want to share some good news. I Tweeted weeks ago that people should send me money instead of liking my Tweets. I wasn't merely shit posting. I've long held a belief that user-generated content is severely undervalued, particularly by the platforms the content sustains.
Back in the boomer days, people transitioned from reading their local newspaper to sitting in front of a television for hours at a time. The media deregulation of the 1980s increased competition in advertising by introducing more players; US consumers went from having three networks (ABC, CBS, NBC) to 50 (CNN, MTV, and others). Imagine getting your news from 50 channels and a few newspapers run by essentially the same man. Nope. No. Let's fast forward.
The internet democratized and decentralized media and, subsequently, attention. Today, social platforms like Instagram, Tik Tok, and YouTube vie for everyone's daily active minutes so they can make ad dollars. Meanwhile, the leading content creators on these platforms, who are often individuals and not publishers or brands, have to play the advertising game too or land sponsorships with publications and brands. For many, this type of monetization is unsustainable.
The reality is, content creators build communities that transcend platforms. Ninja, one of gaming's top streamers, left Twitch for Microsoft Mixer in 2019 because he wanted to expand his brand beyond just gaming and he knew his community would follow. At the time, people anticipated this move would make Mixer more competitive. This week, Mixer shut down to pursue a Facebook partnership and Ninja asked to be bought out of his contract. He's a free agent and his community awaits his next move.
The power is shifting from platforms to creators. When I deliberate the next era of content creation, I see it in the hands of creators. The question is—how do creators monetize and create their own economies? Companies like Medium and Patreon have tried addressing this question and Substack is doing a solid job, but I believe the solution lies in decentralized finance (DeFi) and decentralized governance (DAO). In other words, a truly global financial system where communities can vote on outcomes. That's why I'm excited about my new experiment …
Introducing my personal token: $HOLLA 🔅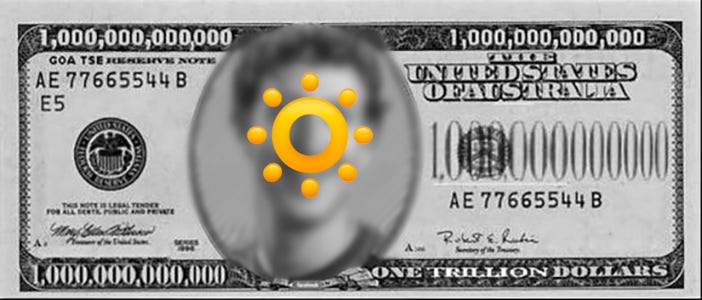 $HOLLA is social money for my followers, subscribers, and other community members. I worked with the incredible team at Roll to mint $HOLLA; 3,231,618.59 are currently in circulation and only 10 million will ever be minted. The fun part? You can earn $HOLLA and redeem tokens for rewards. In fact, as a subscriber to this newsletter, you've already earned 150 $HOLLA. You can also earn $HOLLA by …
Subscribing to (un)real: 150 $HOLLA

Sending new (un)real subscribers: 100 $HOLLA

Sharing (un)real on Twitter: 50 $HOLLA (Please mention/DM me @kanakhey)

Retweeting or replying to my Tweets with specific calls to action: 50 $HOLLA

Easter Eggs on my personal website: coming soon
If you earn enough $HOLLA you get to …
Compose a tweet: for 10,000 $HOLLA, I will Tweet copy of your choosing whether it's to promote your startup/brand, to ask my audience a question on your behalf, or to make a joke. Whatever you want. Get creative and maybe ask me to do an audio Tweet? Maybe? Nothing is off-limits except:

You have 221 characters at your disposal with the rest reserved for "$HOLLA reward Tweet"

You can use links and media (image or < 2-minute video/audio)

The Tweet must abide by Twitter's Terms of Services

The Tweet must abide by my Terms of Services: no vice content and no dunking
~pick~ my brain: for 5,000 $HOLLA, we can schedule a 30-minute meeting for strategy/operations consulting, career advice, startups advice, or just to chat
Get a ReTweet: for 3,000 $HOLLA, I will RT a Tweet of your choosing. It must abide by the same Terms of Services as composing a tweet

Beta app invites: for 3,000 $HOLLA, I will send you an invite to Clubhouse. There is one invite available. GOOD LUCK. There will be other beta app invites available soon; pricing will vary by app

Vote on content: coming soon
These are initial ideas and are subject to change and improve with your suggestions. I'd like to hear from you—let's make this experiment interesting. How do you want to earn $HOLLA? What kind of rewards should we add? I'll send you 1000 $HOLLA on Roll or an ETH wallet if you come up with ideas that end up as rewards.
Please note: $HOLLA is not an investment instrument. $HOLLA is not and will not be a human IPO or ISA. With all that said, I have a few goodies for you:
I said it before (on Twitter) and I'll say it again; digital currencies are the future. Participating in this experiment is creating that future. Perhaps we'll create one of the largest personal token markets together, shift our thinking on how content creators can monetize, or just have fun. I'm down for all of it. Are you? Get your $HOLLA above.
For the skepticists ... Have you seen a dollar bill recently? Do you even want to touch a dollar bill right now or ever again? From Africa to the US, crypto is gaining adoption by consumers and platforms: Cash App, Reddit, Facebook, PayPal / Venmo, BuyCoins, Bundle, and others. It can and will serve various populations.
Further Reading:
If you enjoy reading this newsletter, share it with your friends and get 100 $HOLLA when they subscribe.
Thank you for reading! 🔅