Discover more from online-offline
A newsletter about technology & culture
Hey, hi, hello friends! I can't believe it's July. That's so … (un)real. 🥁
Thank you everyone for supporting the launch of my personal token, $HOLLA. The 25 "Early $HOLLA hodler" tokens were redeemed within hours of launch and more of you earned $HOLLA by subscribing, Tweeting, and reading this newsletter. As they say—my heart is full. Welcome to the community! If you're new and want to learn more (and join us), you can read about $HOLLA in my previous newsletter.
In that newsletter, I mentioned the fashion essay I've been sitting on for over a month. Well, it's here. Read on for my month-old and present-day thoughts on fashion tech, and for some $HOLLA. Oh, and *in my best YouTuber voice* don't forget to subscribe!
---
// A month ago
I never thought I'd say this but ... video games are the future of everything.
That's right. I admit it! And I can hear my ancestors sighing with disappointment.
Video games are powerful mediums for storytelling and commerce. More importantly, they're a blueprint of how mature industries can embrace 3D, virtual, and augmented realities. A peek into this blended reality went viral this weekend: Hanifa's virtual fashion show on Instagram pictured in the black and white gif below.
Today we'll discuss fashion and the innovations the industry needs to adopt in a continuously digitized world. No video games? Fashionnn??? If you're incredulous, I point you to Meryl Streep's iconic monologue in The Devil Wears Prada.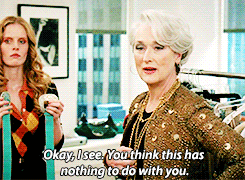 Fashion has everything to do with you, me, us. For centuries, clothing has denoted status, class, wealth, and even self-expression. Designers and buyers once held exclusive fashion shows and mailed consumers catalogs with select garments. Absent bespoke garments, a consumer's fashion choice was made for them. This tradition was challenged twenty-three years ago when the marriage between fashion and tech began. In 1997, Helmut Lang held the first-ever Internet-based fashion show and launched helmutlang.com. In his words:
"I sensed at the time that the Internet would grow into something much bigger than imaginable, so I thought it was the right moment to challenge the norm and present the collection online. It was a shock to the system, but a beginning of the new normal. In terms of the broader context of the industry, we made in the same season the entire collection available on a public platform, allowing consumers for the first time to get an unfiltered view of my work."
If that was the new normal back then, then what should we look forward to? A fashion world that combines the video game tech stack with the collective spirit of streetwear. A season-less form of expression influenced by the people, for the people.
By improving the development and launch process, brands can spend more time (and money) using inspiration from real life to imagine what's next in fashion and engaging with their customers. Fashion innovation will be evident in three pillars: creation, content, and commerce. Today, we'll discuss the first two pillars. The third, commerce, is a much deeper dive and I'm trying to go easy on word count these days.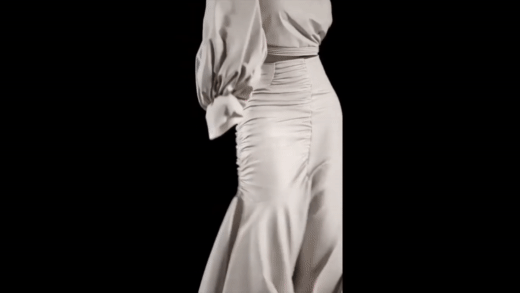 Hanifa 2020 3D Digital Fashion Show | Pink Label Capsule Collection - A Tribute to African Seamstresses
1. A new way to create garments
Introducing Figma for fashion design: Marvelous Designer, The Fabricant, and Clo 3D. These tools leverage 3D technology and allow brands to design, prototype, and ship their collections digitally. They eliminate waste (cost-savings) and enable design, pattern-making, merchandising, and styling teams to work more harmoniously. Emilio Pucci and Theory already use these tools to create while Alexander Wang / Adidas and Balenciaga have used them to launch collections. No brand has used 3D models on the runway until this week. With all that said, there are two schools of thought here:
School #1: Uncanny Valley: I sent Hanifa's 3D fashion show to friends and they called it "creepy," which was a shared sentiment on Twitter. The designer, Anita Mvuemba, may have accomplished her goal too well. She recently said, "without real women to draw inspiration from there could be no 3D models to emulate our beautiful skin tones, curves, and walking patterns. For me, the biggest challenge is making sure that the beauty we display in real life is well represented on the screen."
School #2: This is the future: Brands will use software like Clo 3D in design development and launch, including virtual runway shows and marketing. Imagine you're a young brand. Let's call it off-black. You're designing a collection and have the fabric picked out, which you share with your 3D designer along with a few sketches. The designer simulates the sketch, capturing the weight, color, and pattern of the fabric. You can review the design and make edits within minutes, maybe add cutouts or shorten the garment. The collection is designed quickly without sewing a thing. Then, instead of a real-life runway show, you decide to create virtual models. Maybe Bella Hadid allows you to create a virtual model in her likeness for a fee. You livestream your fashion show. It takes place in a virtual Complex sneaker store. Alternatively, maybe you create an exclusive drop where customers can virtually model the garments themselves in select settings. The sneakerheads hate that they love it.
I obviously subscribe to the second school of thought. I'd be remiss if I didn't acknowledge the valid question of inclusivity. Right now, these technologies don't truly represent all body/hair/etc. types. I'm confident that will change in the coming years and unearth the true Figma of fashion. Still, I'm long 3D and VR/AR in fashion. Brands will make magic if they use these and other novel technologies to design and to create content as well.
---
Thank you for reading so far—you've earned 100 $HOLLA (redeem
here
)! You can learn more about $HOLLA
here
and, trust me, you want in. There's still a Clubhouse invite up for grabs.
---
2. Brands as content creators
Many of us are inside with nothing but the internet for comfort and distraction. Our screen time is up, but I'd wager luxury fashion brands have captured a negligible percentage of consumer attention. Unlike DTC brands, luxury fashion brands rely on travel, department stores, and magazines to reach consumers. They've established target consumers without having to engage them directly. That must change; luxury fashion brands should rely less on brick & mortar and media partnerships, and more on organic and engaging content. Let's take a look at two examples of this in action: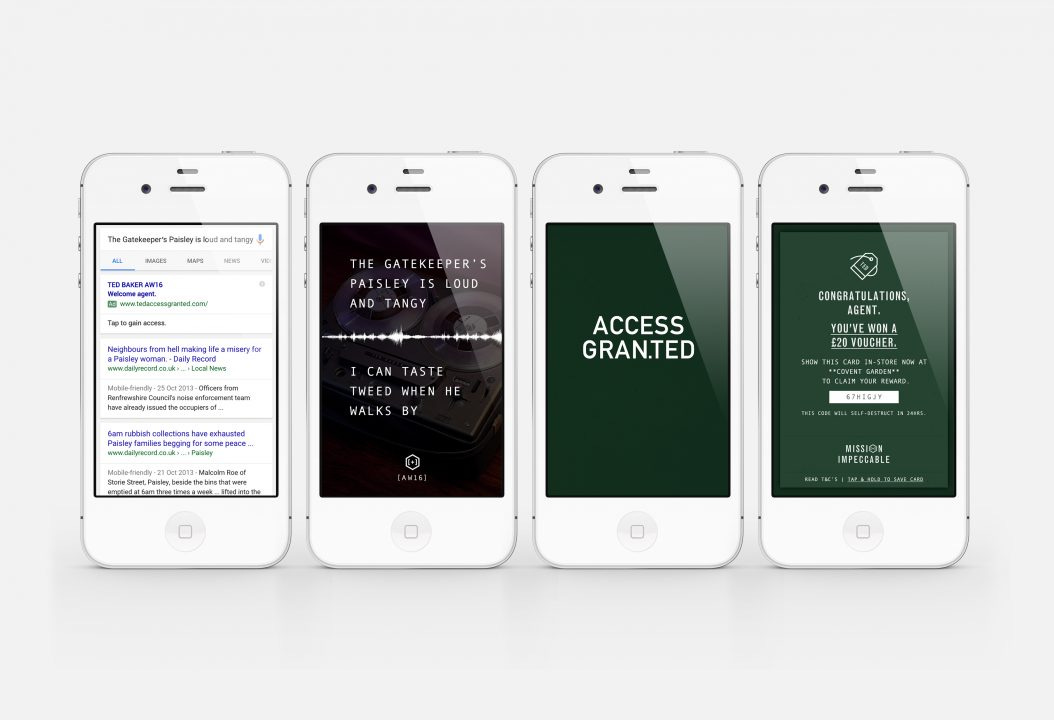 Example 1: In 2016, Ted Baker launched the Mission Impeccable campaign to promote its A/W collection. The brand introduced a cliche James Bond-like world using a film that was shoppable—you could click on characters' garments to add them to your cart. Ted Baker complemented the online experience by partnering with Google (Voice Search) to create interactive store windows. If you followed instructions on the store window, you were rewarded with vouchers and other prizes. Using technology in this organic way made consumers part of the story and launch. I'd love to see the revenue numbers associated with this collection—experiential retail encourages greater in-store shopping after all.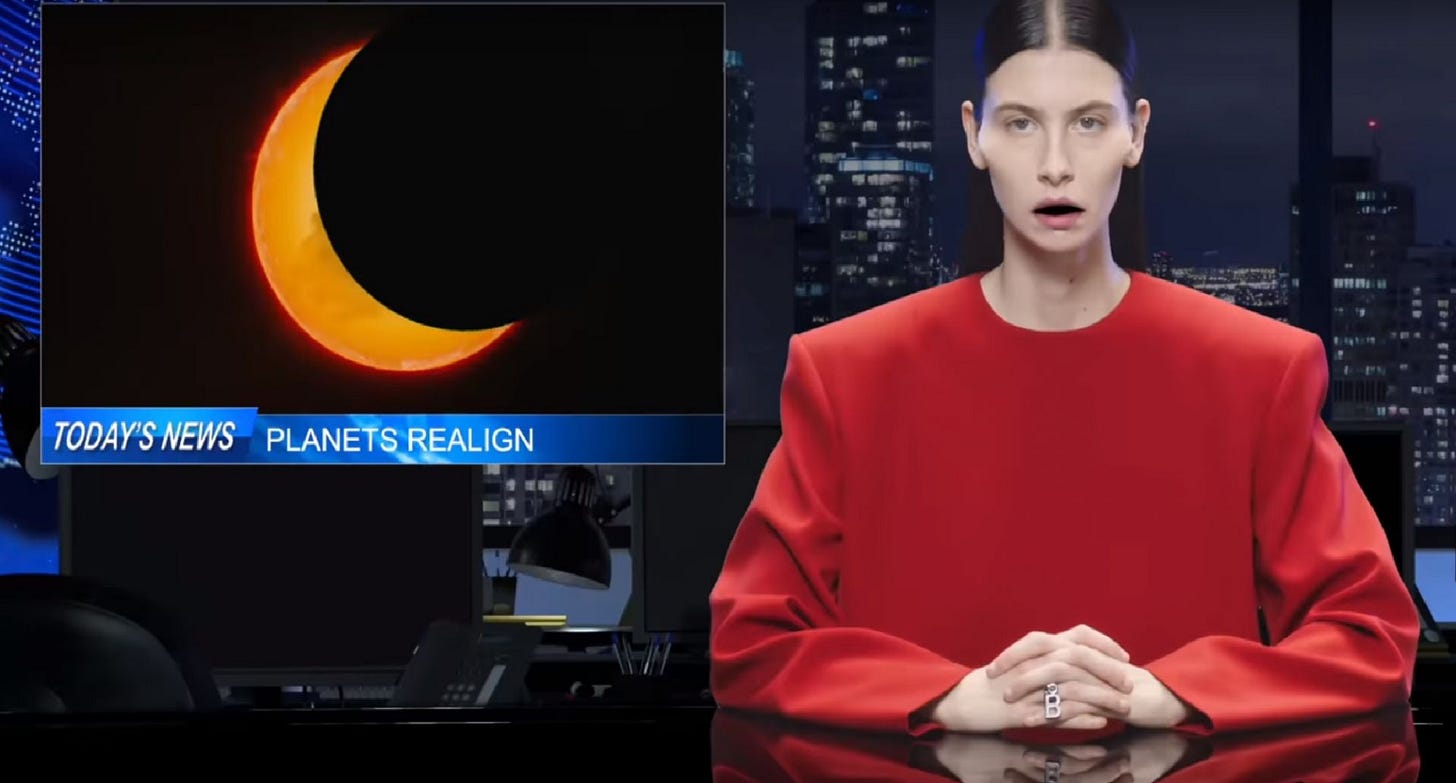 Example 2: This year, Balenciaga launched the summer 20 campaign that looped for 24 hours on Twitter. The campaign was a newscast of a dystopian earth with characters outfitted in the new Balenciaga collection. It tapped into the zeitgeist of "fake news" by blending images of real people with computerized/robotic movements, and touching on news items that we know to be false but could become true (especially at the rate 2020 is going). Over 7 million people watched the campaign and had polarizing commentary, making it one of the most viral fashion campaigns in recent memory. This is my favorite fashion campaign of all time and inspiration for this essay. Other brands could benefit from a clear content and marketing strategy like this. Honorable mention to Gucci's beautiful Winter 2017 campaign that featured "motifs from sci-fi of the 50s and 60s [...] alongside a Star Trek inspiration and the men's and women's collections."
These examples highlight three elements of successful campaigns: engaging experiences, a business powered by memes, and creative content that aligns with the brand. To attract and retain customers in a digitized world, a brand must excel in all three elements. Case in point: Gucci and Telfar (a young brand). Both brands create engaging, memefied content. Gucci nods to their #GucciCommunity on Instagram while Telfar features customers in daily content. Of course, both have cult followings.
---
// Present-day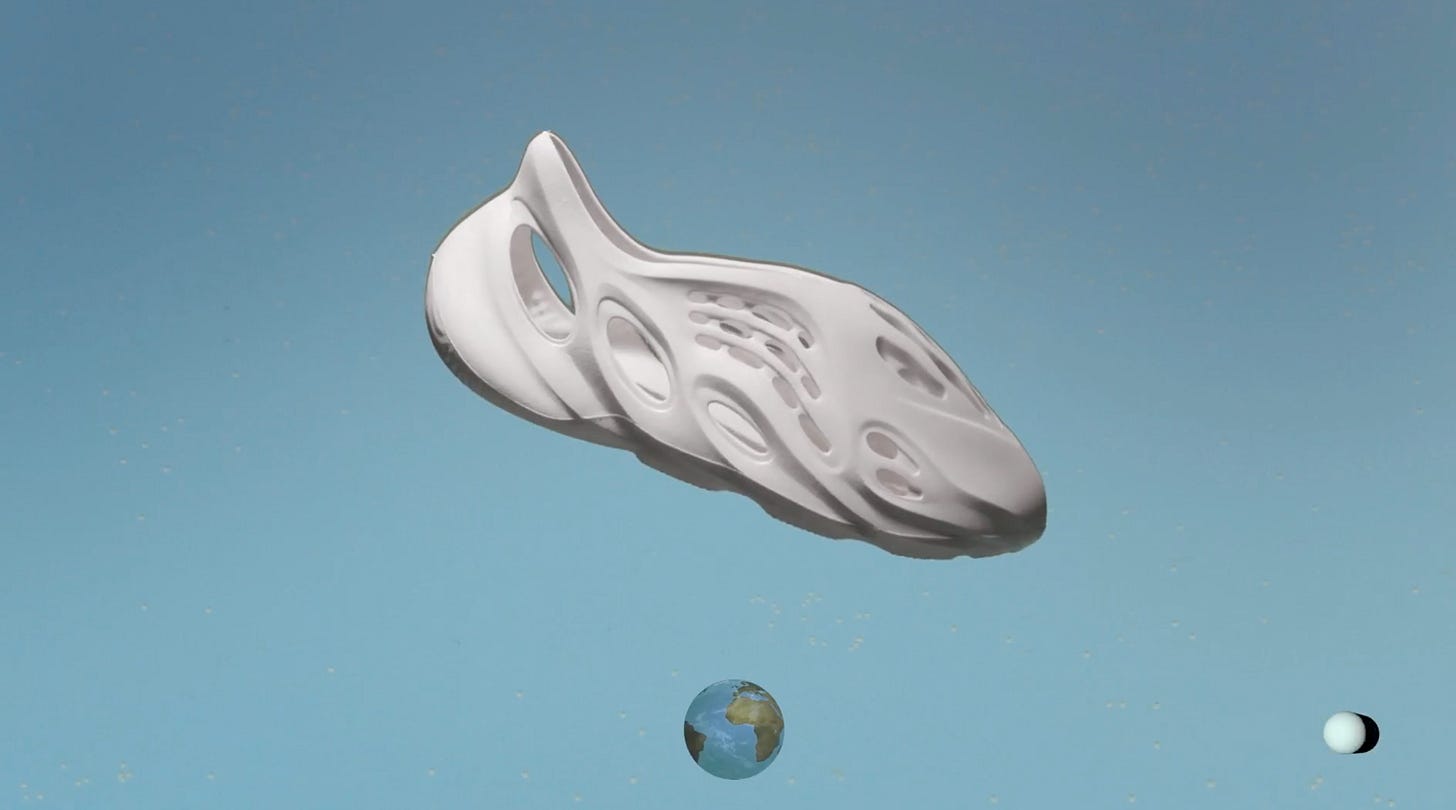 Speaking of cults and followings—Yeezy is a business powered by memes that's testing the boundaries of creativity and content with a new commerce site. Honestly, one of the most engaging commerce sites I've seen. Putting my personal opinions about Kanye aside, the Yeezy Supply redesign looks masterfully done.
The site features Yeezy's collection of shoes, clothes, and accessories but there are no words or menus like a typical commerce site. Instead, you get to choose a 3D model, of which there are many to represent various body types and identities, and then you outfit them in various garments and sneakers. Each time you make a new selection, your model leaves the screen to change and returns in the updated look.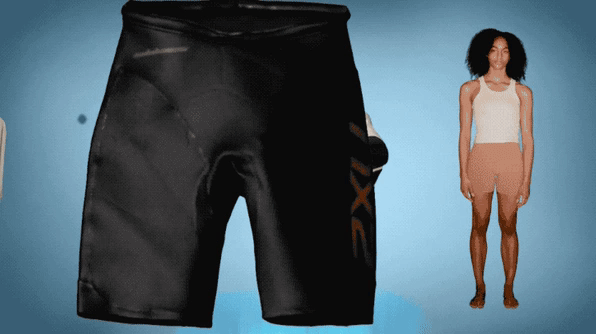 It's basically a video game … except you get to buy the goods and wear them in real life. It's my off-black idea manifested at the commerce stage instead of the creating stage.
The best part? You can learn about each 3D model. They're real people that you or I could relate to. The website is not only about commerce, but storytelling and sharing facts that bring humanity to a digital experience.
Kanye and his design team have broken the rules in the best way here. I'm stunned.
I anticipate spending a lot of time on this site when it launches. I won't buy a thing but if daily active users are a success metric for the Yeezy team, then they have at least one loyal user.
---
3. Commerce rules everything around me
Coming soon! It's written but I'm trying the part 1 & 2 newsletters approach. In the meantime, here's further reading:

Thank you for reading (un)real. If you enjoy reading this newsletter, share it with your friends and get 100 $HOLLA when they subscribe.