Discover more from online-offline
A newsletter about technology & culture
The Great Collide: Real & Digital Life
001. Light, Shadows, and the Technological Grey
We know three things to be true: the sun rises and sets daily, and we create shadows when we block its light. Egyptians exploited this knowledge to tell time in the physical world, but shadows weren't effectively portrayed in drawings or paintings until the advent of the Italian Renaissance. While Leonardo Da Vinci gets most of the credit, it was Piero della Francesca that pioneered the use of perspective in art centuries before we could capture a moment with a photograph. When Francesca introduced perspective in The Flagellation of Christ, he didn't create a new concept but simply interpreted the world for others. Francesca was a master mathematician and artist, and his technique taught other artists how to translate the physical world onto canvas with realistic depictions of perspective, light, and the absence of light. In those days, art communicated what reality was and what it could be.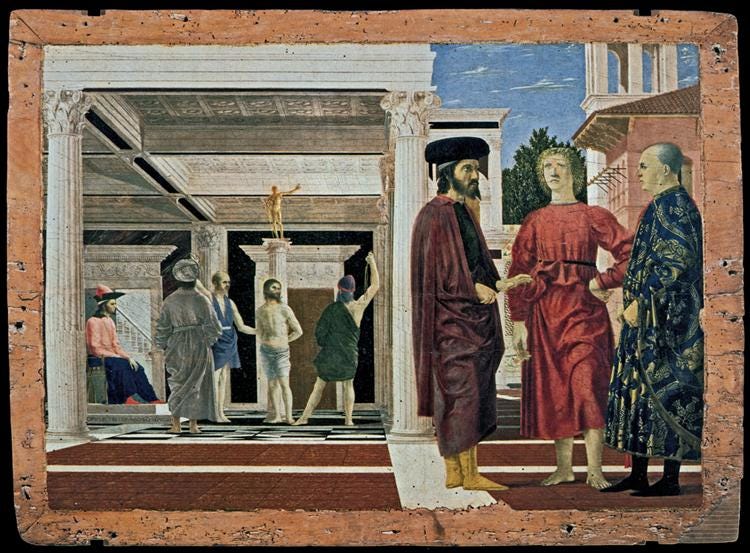 For centuries, we've trusted what we see on canvas, in print, and in real life. More importantly, we've delineated between what's real (light) and what's not (shadows). For example, we know our hands are manipulating light when we create shadow puppets. How we occupy physical space impacts our perspective, the shadow puppet we see, but there is clear dichotomy between our hands and the shadow puppet.
But what happens when you don't need light or the absence of light to create shadows? What happens when reality doesn't beget fantasy?
We are now living in sfumato—the grey transition between light (real) and dark (unreal)—and it's largely driven by technology. The result is soft, imperceptible domains that seems almost illusionary.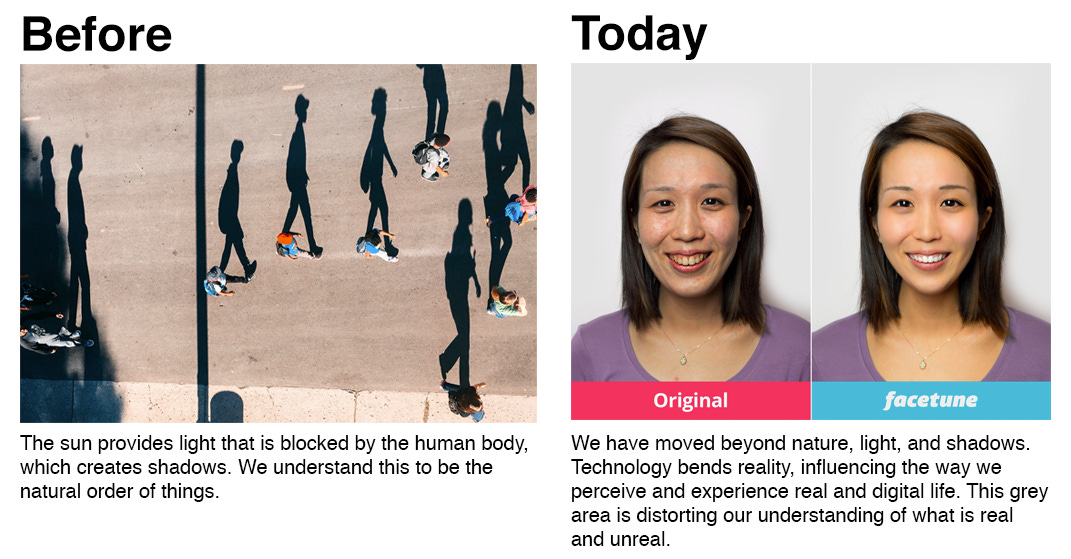 I remember flirting with this grey area ten years ago. I would spend hours removing the background of celebrity pictures and layering the celebrity onto a new environment in Photoshop. It was similar to playing with a Barbie doll and putting her in different rooms in a dollhouse. Unlike the physical world in which Barbie exists, digital life provided endless possibilities. I could put my celebrity on the beach in Bali if I wanted to and I could make Rihanna and Beyonce look like best friends too.
Today, if I want to, I can sing like Beyonce, wear my AirPods day and night, ride around in an autonomous car, create an avatar and exist in various forms online, watch a new James Dean movie, participate in esports tournaments, read articles written by algorithms, explore cities I want to visit on Google Maps, experience AR/VR across multiple industries, use facial recognition to board a plane, and even implant a microchip to make travel easier or to store personal information.
Crazy world, right?
Most of us were scared of our own shadows as kids—we didn't understand that they were an extension of our physical reality and we ran screaming and crying from them. Some of us even kept the light on at night to scare away shadow monsters. It's all fun and memes now, but living in the grey area for too long without definitive thresholds may result in everyone screaming and crying. We've already seen early consequences reflected in a synthetic audio heist and the threat of disinformation.
This is only the beginning. Technology is painting a new version of what reality is and what it could be at an astronomical scale and with considerable influence and impact.
There's so much to explore in this new reality; I hope this sets the stage for the world we're about to deep dive into together.
---
Reality Bytes
I was going to title this section realiTEA but I figured that was way too corny and we're not there yet. I guess this is the part where I share my unfiltered thoughts and the content I'm consuming.
💭 Tech Twitter has been exhausting lately. I love being ~very online~ but need a break. Unsurprisingly, I hope to spend the next few weeks meeting founders and other real humans. If you're building a good business or if you just want to chat, reach out (email or @kanakhey)!
🎧Born to Die is obviously a masterpiece, but I haven't listened to Lana Del Rey since. And then Norman F****** Rockwell! happened. I've replayed the album so much I didn't realize that Venice Bitch was legit 10 minutes long. In fact, I'm listening to it as I type. The lyricism and production are top notch but I want to talk about how Norman Rockwell is an interesting inspiration for the album. He was an artist and illustrator, much like LDR's romantic interest in the album, most famous for depicting an ordinary and but overtly inspirational American middle-class. Rockwell believed that he was "showing the America [he] knew and observed to others who might not have noticed." But to quote Joan Saab, "Rockwell bracketed a moment we are never going back to. It's too civilized. It's too white. It's too unreal. Rockwell can be used to talk about so many different things, but he was never about reality." Rockwell drew a perfect picture, but reality is incomplete without the hard truths. The Problem We All Live With is one such truth that he painted and that speaks for itself …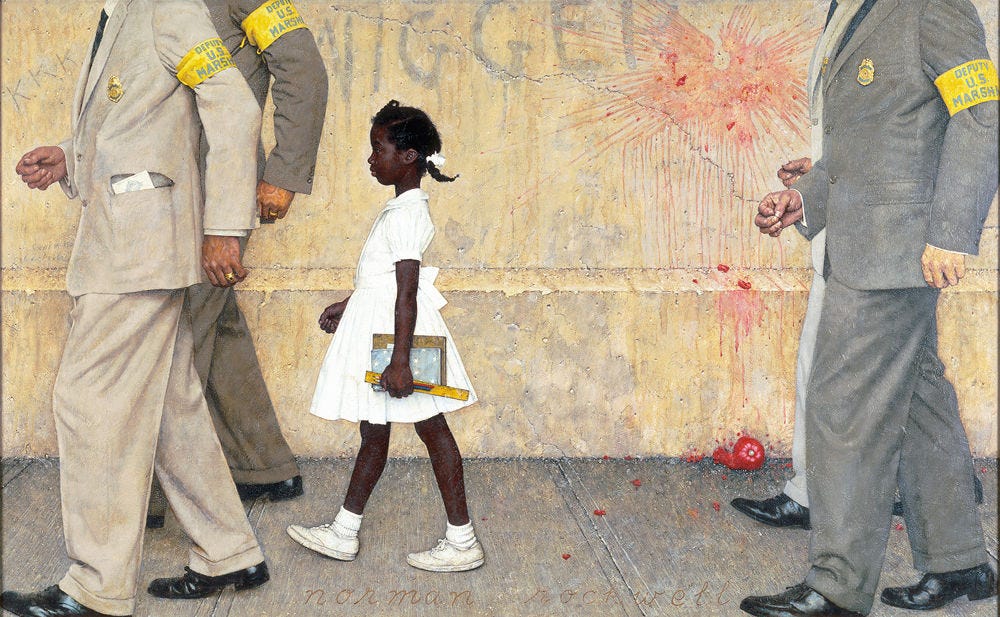 📚I have newfound appreciation for history and am currently reading Suspensions of Perception by Jonathan Crary. It's a really academic read but is insightful thus far. More on perception later.
❣️This piece is dedicated to Makeda. Thank you Chris and Seyi for your encouragement.
🔅And thank you for reading (un)real. If you'd like, you can subscribe here.